We do much more than you might expect from a REALTOR®
FULL-SERVICE
We will guide you from start to finish.
Let our network of experts take the wheel and deliver you results based on your timeline.
The"Service Hub" wheel below shows just some of the many solution providers we can connect you with to make the probate process as smooth as possible.
Other than an attorney,
your most valuable resource will be a real estate team that is trained & experienced in handling the intricate details of probate & inherited property sales. We will help ensure that nothing falls through the cracks.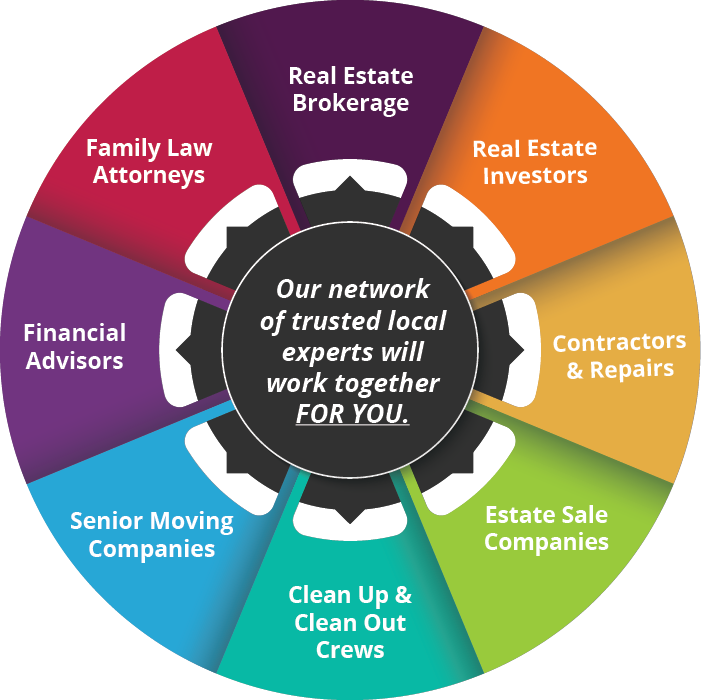 Five Simple Steps:
Strategize the best plan of action
Schedule your solution providers
Organize your personal property
Prepare the home for sale
Market and sell the home
We can help with:
• An accurate property analysis with recommendations to maximize sales price
• Saving time in the disposition of property
• Consult with family members & heirs to help achieve consensus
• Prepare a program to reduce the "Time on the Market" (set expectations)
• Arrange repair bids (to assure buyer finance underwriting & higher value)
• Refer you to an estate liquidator to appraise and/or sell the personal property
• Coordinate the clean out of the property & donate unsold personal property to charities
• Help you choose the most effective market strategy to achieve your goals